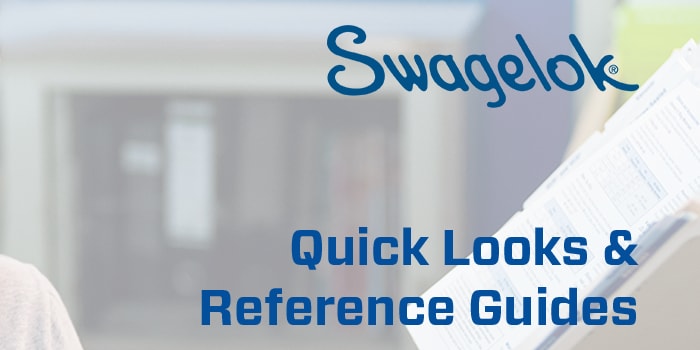 Our goal is to make it even easier for Industrial Fluid Professionals to find the resources they need. Let us help you reduce downtime and get the right products and services that you need quicker. Here you will find our growing library of useful guides.
Guides
Website | Getting the most out of Swagelok.com
White Paper_Are You Taking Unnecessary Risk
Intermixing Twin Ferrule Tube Fittings – Is it Safe?
Safety and Instructional Guide – Tech Tips (including videos) on proper installation
SAT12 – For For Corrosion Resistance in Your Critical Components
Power Interactive - An overview of how Swagelok partners with the Power industry
Service
Custom Solutions – Fabrication and assembly services
Hose Advisory Services– Save your plant thousands in maintenance costs
Compressed Gas Leak Detection Services – Minimize Leaks. Maximize Efficiency.
Swagelok Sample Systems Evaluation and Advisory – Ensure Your Samples are Representative. Timely. Compatible.
Total Project Support – Comprehensive coverage during new and existing construction projects
Products
An Installer's Pocket Guide for Swagelok – Tube Fittings
40G and 40 Series Ball Valve – Instrumentation ball valves
60 Series Ball Valve – Reliability and low maintenance
Swagelok Tools – Quick reference for the tools you need to get the job done
Swagelok Seal Flush Plan – Components help keep your rotating equipment running efficiently
Valve Quick Reference – Comparison sheet to get the valve you need quickly
Process Interface Valves – Double Block and Bleed (DBB) Valves
Looking for more? We have a curation of technical articles written by some of the brightest minds in the industry. Click here for Swagelok Technical Articles